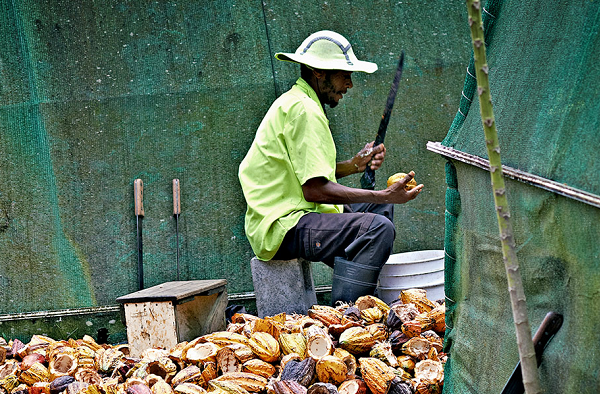 Programs to make life as a cacao farmer truly sustainable
Engaged Ethics is the name we coined for our direct programme to create sustainable cacao growing communities. It differs from most other 'trading fairly' programmes as it goes beyond simply writing out a cheque and standing back (which is still a great deal better than doing nothing!) It's a roll-up-the-sleeves, take risks, long-term approach, which has led to a remarkable set of results so far.
The story starts in 2004 when we considered joining Fair Trade. Taking a closer look we realised that it was a 'one size fits all' solution, which works better in some industries, geographies and cultures than others. Fair Trade is a great movement and has already done a lot of good, but we decided to create our own bespoke programme, because we could - we are totally independent, don't supply supermarkets and have the freedom to do what we want as long as our customers support us!
Starting in Ghana (Osuben Region) in 2005, we made field trips to this cacao region to understand the challenges and make connections. Over the last six years we have provided not just funding but project management expertise to make direct, sustainable improvements. We are not interested in projects that breed dependency on a continual drip feed of aid cheques. We ensure all of projects are about empowerment and in-built momentum. A prime example is the network of cacao seedling nurseries we have founded, to enable replanting and yield improvement, thereby reducing the risk of poverty trap due to declining yields. Although we will always support our cacao friends in Osuben and we still return regularly, there are limitations to our influence, as all the cacao is sold via the Ghanaian cocoa board and so we cannot have traceability.
Buying our own farm in Saint Lucia in 2006 gave us the chance to take Engaged Ethics to a new level. The estate was run down and, across the island, interest in cacao was at an all-time low. It didn't take us long to realise why. The previous owners were making more money from selling carrots to local hotels than from the cacao on this beautiful 140-acre estate. All cacao had to be sold via a single export organisation, which worked like this - You left your cacao at their warehouse and they would 'try' to sell it on your behalf with no guarantees. If they sold it, the price you got was world bulk cocoa price less deductions for the middleman and you had to wait around 6 months to get paid!
Little wonder that cacao was on a terminal nosedive across Saint Lucia. with rare old cacao groves being dug up to plant bananas instead. It took us two years to turn our own estate into a model cacao farm and then we set about creating a Cocoa Resurgence across Saint Lucia (The 'we' is mostly Phil Buckley, our own Cacao 'Indiana Jones', who has led our Saint Lucia adventure since the beginning. If you visit our hotel or restaurant at Rabot Estate, you will meet him). We conducted a Cacao Renaissance road show up and down the island, speaking to groups of about 10 cocoa farmers at a time. The Engaged Ethics Cocoa Programme we proposed to them is:
We'll guarantee to buy your whole crop, so you can invest in your farm with confidence.
We'll pay you directly. Without middleman deductions, at a rate that reflects the quality of your beans. In 2011 our Island Growers got USD $4.11 per kg* rather than USD $1.63 previously. a 152% increase). *dry bean equivalent
We'll provide free technical help to improve quality and give access to our top quality cacao seedlings (propagated at our Cacao Research Centre at Rabot Estate) at a subsidised rate of 4EC Dollars each (true cost IOEC Dollars each).
We'll buy the beans 'wet', just after harvesting and before fermentation and drying. To be able to pay a premium price, we need to ensure the finished quality is very high. As a chocolate maker, we know what we need in terms of flavours, so we prefer to carry out the fermentation and drying stages.
There was a lot of interest but the growers thought there must be a 'catch', as there is a history of failed agricultural aid initiatives across the Caribbean. It took several months before Laurence Auguste of the 'Ti Delcer estate stepped forward as our first Island Grower partner. Gradually more and more joined until, in 2011, we reached 120 cacao partners, ranging from new start-up farmers, to well-established estates returning to cacao.
We're very proud that we have been able to create a blueprint for sustainable cacao growing, but also very aware that our ability to pay fair prices for cacao depends on it tasting great and the support of our customers. We would not have been able to undertake this adventure if we were selling our chocolate through supermarkets without a direct link to our customers. The connection between those who enjoy fine chocolate and those who grow cacao must be tight. Otherwise it leaves consumers poorly informed and growers missing out on the enduring appeal of high quality cacao. Our Rabot Estate store in London's Borough Market is making these connections every day and, for the ultimate connection, we would love to welcome you to our hotel and restaurant at Rabot Estate, set within the cacao groves.
'Thanks to Hotel Chocolat, the cacao trees are singing again' Island Grower, Charles Augustin of La Dauphine Estate.
To get a taste for our Engaged Ethics chocolate just look for the award-winning Rabot Estate and Island Growers Saint Lucia recipes in our Rabot 1745 range.