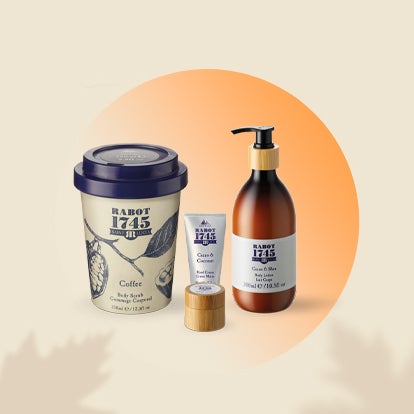 A regular skincare routine helps to keep you looking and feeling your best. With our nourishing Rabot range, skincare doesn't have to be a chore, in fact, it can become a highlight of your day! These luxurious products will leave you feeling relaxed and refreshed, so don't forget to schedule in some time for your self-care ritual.

Everybody's skin is different, and your day-to-day lifestyle can affect its condition — from what you eat and drink to how much sleep you get. This is why it's important to find a skincare routine that works for you. Establishing a consistent routine can take time, but once you've found your rhythm, you can branch out to try new products and adapt to the changing seasons.
As winter draws in, the colder weather can make your skin drier and more sensitive than usual. Our Rabot range uses deeply nourishing ingredients that help to protect your skin from the elements, leaving you feeling pampered and glowing even in the chilly grey drizzle.
Exfoliate:

Light exfoliation can remove dead skin cells and promote cell regeneration and collagen production, ultimately leading to softer, smoother skin. Natural coarse ingredients, like the ground coffee beans found in our

Coffee Body Scrub

, are an effective way to rejuvenate your skin without using harsh chemicals, microbeads, or artificial colors. Combined with salt, this scrub lightly rubs away dirt and dead skin cells that may be contributing to a dry, dull complexion. By getting rid of that top layer of redundant cells, exfoliating also helps your skin to absorb nutrients — like the antioxidants present in ground coffee — and more efficiently retain moisture from creams and lotions that you apply later. If you are looking for an uplifting scent, our tropical

Sugar and Sour Orange Body Scrub

and zesty

Salt & Lemongrass Body Scrub

will leave you feeling radiant and revived, ready to take on the world. Our scrubs come in reusable coffee cup containers that you can bring with you anywhere, filled with your favorite drink.

Nourish Body: Treat your skin to the next level of nourishment every day. Feel exquisite — morning, noon, and night. Let our body lotions transport you to the depths of a Saint Lucian rainforest, where sun-ripened cacao pods diffuse their sweet scent. Richly fragrant, the cacao in our Cacao and Shea Butter Body Lotion is sure to lift your spirits as it soothes your skin. Packed with antioxidants, cacao butter is a true savior, helping to protect the skin from. Shea, meanwhile, is one of our favorite anti-inflammatory ingredients and will cool and calm sore or sensitive skin. Our Cacao and Babassu Body Lotion contains babassu, a tropical seed packed with antioxidants and rich in vitamin E, its botanical goodness can boost the health of your skin and hair. Babassu's anti-inflammatory properties can be helpful in treating eczema
Nourish Hands: With the impact of COVID-19, increased handwashing and the use of anti-bacterial hand gels can cause hands to become sore and dry. The sweet, fresh coconut blends perfectly with our rich cacao to create a nourishing hand cream you can treat your hands to when they're in need of a little revitalizing. It's ideal for keeping in your bag or desk drawer, leaving your skin smooth and soft on the go.
Nourish Lips: Just as your skin can be a reflection of your internal health, your lips are a good indication for how dry the rest of your skin may be. Chapped lips may indicate that your skin needs a bit more TLC. Our lip balm is the perfect size to keep in your bag so that you can liven up your smile. All our lip balms are made with natural ingredients, no artificial scents or ingredients.