Recipes
It's here... taking inspiration from the rare cocoa growing around us, we have created an exclusive menu of Cocoa Cuisine. Never heavy, the role of our cocoa is sometimes as a spice, or an infusion, but always in a natural, healthy and exciting harmony. This is an exclusive collection of recipes created by our own chefs to give you a tantalising taste of what Boucan is all about. I hope that you enjoy both making them and tasting them.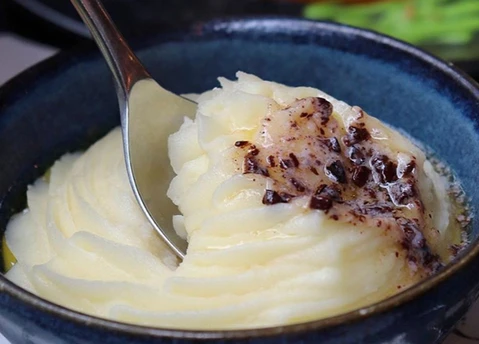 White Chocolate Mash
This is the bestselling side dish in our restaurants. In a cunning twist, the white chocolate replaces some of the usual butter with cocoa butter, elevating the humble spud to new heights of hedonism.
PREPARATION TIME:10 MINS
COOKING TIME:30 MINS
TOTAL TIME:40 MINS
EASE OF PREPARATION:EASY
SERVES:6
Ingredients
500g hot plain mashed potatoes
100ml whole milk
100g white chocolate chopped into nut size pieces
100g unsalted butter
Method
Boil the potatoes for around 25 minutes or until soft.
Place the hot mashed potato in a large mixing bowl.
Beat in the white chocolate ensuring all the chocolate has melted. Beat in the remaining ingredients until smooth.
Add a pinch of table salt to taste.