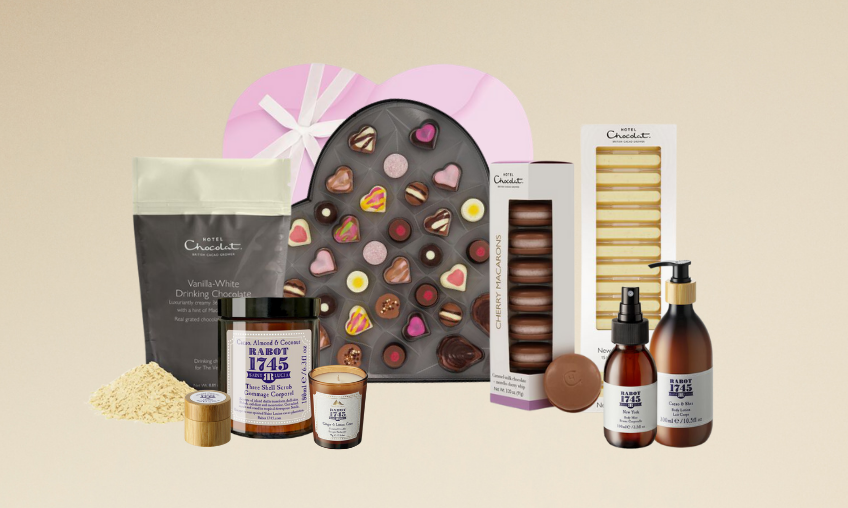 Luxury Pamper Bundle
Indulge in a luxury pampering experience with our finest selection of chocolate and beauty products. This luxury bundle makes the perfect gift for someone looking to unwind after a busy day or someone who takes their pampering rituals very seriously.
This bundle includes:
● Straight from the heart: Beautifully arranged in a heart-shaped box, this collection includes 35 of our most coveted creations.
● Macarons & batons: you get to choose 1x baton and 1x macaron, our most iconic chocolate treats to lighten up your evening with a glass of prosecco.
● Chocolate pouch: you haven't tried Hotel Chocolat, if you haven't tried one of our delicious hot chocolates. Incredible smoothness and deep cocoa flavors make our drinking chocolate irresistible. You promise, you'll come back for more.
● Three shell scrub: polish, exfoliate and moisturize your skin with our unique body scrub, made of cacao shells, coconut and almond. Apply directly to skin or onto a washcloth and massage it into skin, cleaning your pores and freshening the skin.
● Votive: Gently soothing, this candle boasts mellow, warming undertones to scent your room. It soothes not only your body, but mind as well by bringing the scents of the Saint Lucia island to your own home.
● Lip balm: lip-smackingly good, although these ones are not for eating. A must-have for the handbag. Keep with you at all costs: our lip balm keeps you feeling fresh and nourished all day long.
● Body lotion: treat your skin to the next level of nourishment. Nurtured and harvested in the beautiful Rabot Estate, Saint Lucia, the botanicals in these lotions capture the essence and power of the tropical isle. After a long day of being up and about, why not gently massage into tired feet, from heel to toe, for the perfect wind down?
● Mist: You don't need perfume to create an utterly beautiful, sophisticated aroma. Our mists are a breath of fresh air. Just one spritz will leave you feeling refreshed, empowered, and ready to take on the day.
Was $225.60, Now: $180
Luxury Pamper Experience
Click on the items to select them.