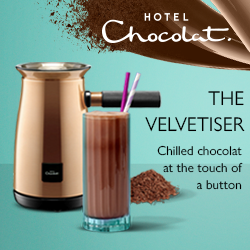 It's no ordinary hot chocolate maker
We imagined it. Dualit engineered it. So you can enjoy it. Warmed, chilled or iced – sip on your favorite chocolate beverages made-to-order, right at home. Use the Velvetiser to create barista-grade chocolate drinks in just 2.5 minutes.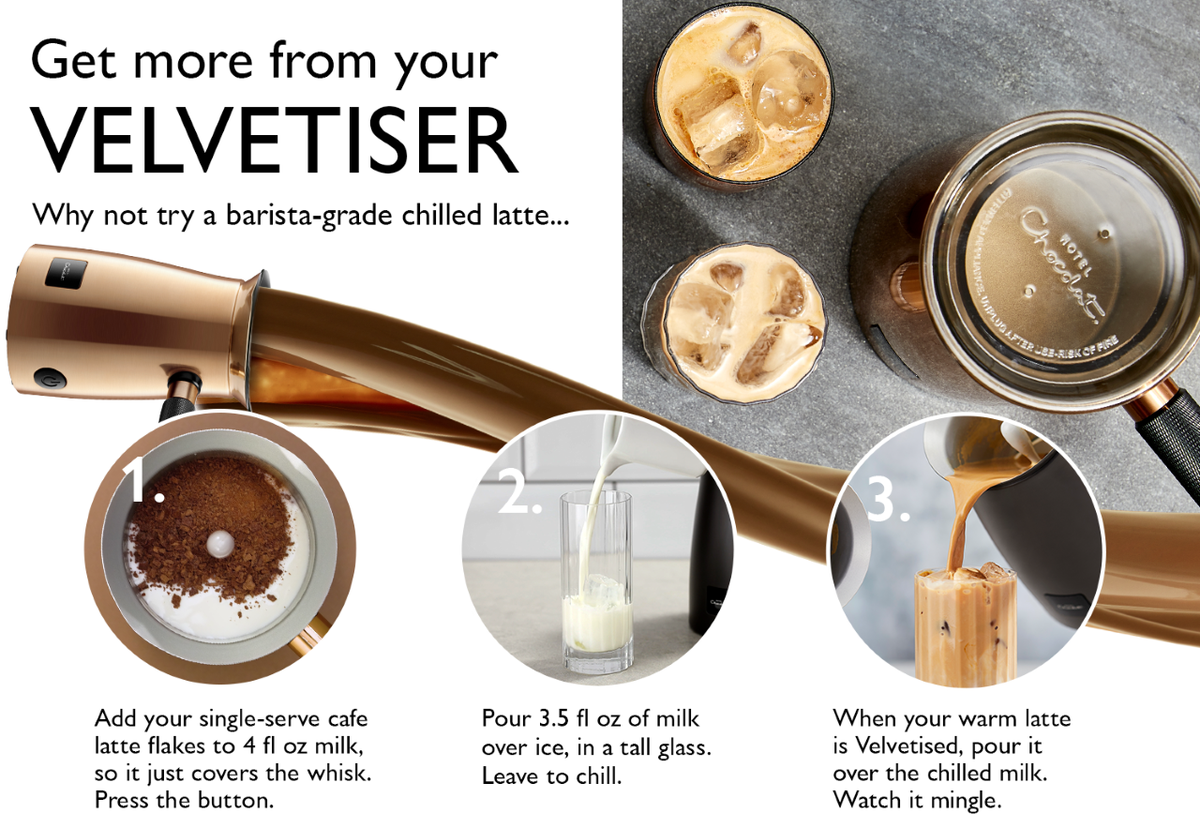 Love the Velvetiser!
"I am a huge hot chocolate fan and have been searching for a way to make high quality hot chocolate
without a huge hassle. This is it! It makes the perfect consistency & temperature and the flavor is
outstanding. I've tried the ginger, hazelnut/praline, and orange so far. I can't wait to try all the rest!"
— Leah B
Perfect pairings



Make it an occasion with these perfect complements to Velvetiser chocolate drinks and lattes.
Instant drinking chocolate is mostly sugar (or chemical-laden sugar substitutes) with very little cacao powder. — And, we're very familiar with the lumpy, artificial-tasting results: Not great.

All drinks created for the Velvetiser use only pure grated chocolate or cacao butter, with a deep, not-too-sweet flavor profile. The texture of your finished drink is paramount: not too thick, not too watery, but a luxuriously silky-smooth level of "just right." Once you've velvetised, there's no going back.
Effortlessly.
First — this is really important — make sure your whisk is in place. Then, add your chosen milk and pour the contents of your Hotel Chocolat hot chocolate or latte single-serve on top. Close the lid, press the button and the perfect drink will be ready in just 2.5 minutes.
Well, what sorts of milk do you like?
Dairy – skimmed, semi or full-fat milk
Plant milk – almond, cashew, coconut, hazelnut, rice, soya
Water – 100% water or 50/50 water/milk mixture, depending on personal flavor preferences
Any and all options will work. Experiment away!
Just 2.5 minutes! That's all it takes to thoroughly melt the hot chocolate or latte ingredients and whisk them into your choice of milk.
No. The Velvetiser is calibrated specifically to work with our graded size and weight of real chocolate flakes — precisely measured for the best taste and texture. Excessively large pieces of chocolate can break your machine by creating 'hot spots' that can burn out the motor. And no one wants that!
Direct from us at Hotel Chocolat. Innovative new hot chocolate and latte recipes are being launched all the time, including limited edition and seasonal specials.
To create the perfect taste and texture, we balanced 8oz of liquid with every single-serve — and created the Podcup to be the perfect fit. In our experience this is the ideal serving size, leaving you satisfied but not overly full.

Fancy half a cup? Just use half the liquid and half the single-serve pouch, or split and share the full amount with someone else. Cheers!
Yes, it's easy. Pour approximately 4oz of your preferred milk into your Velvetiser (so it just covers the whisk) and add the contents of your single-serve. Pour approximately 3oz of milk over 6-8 ice cubes in a tall glass and leave to chill. Once your drinking chocolate or latte is velvetised, pour it over the chilled milk and watch it mingle. Enjoy!
You can't make ordinary coffee, but you can go one better with our velvetised Latte range.
Making a barista-grade Latte is as easy as our hot chocolate: pour 8oz milk of your choice into your Velvetiser, sprinkle in your single-serve, press the button and let the Velvetiser work its magic in just 2.5 minutes.
To make a delicious Mocha using your favorite hot chocolate, you can just toss a shot of espresso into your freshly made velvetised chocolate for a perfect afternoon pick-me-up. Salted Caramel, Milky, Classic and Hazelnut all work well. For best results, add the espresso to your cup first before pouring the hot chocolate.
Though the Velvetiser was not designed to specifically do that, it can create a frothy milk fairly well.
Pod Cups are safe to use in a dishwasher. We recommend that you wash them before your first use.