In 2006, Hotel Chocolat bought a tired, overgrown estate on the Caribbean island of Saint Lucia and transformed it into an organic, sustainable 140-acre cacao farm.
We became cacao growers and set out to revive the industry on the island. By providing subsidised seedlings, committing to buy cacao above the market rate, and to always pay within a week, we brought life back to struggling cacao small-holds across the island.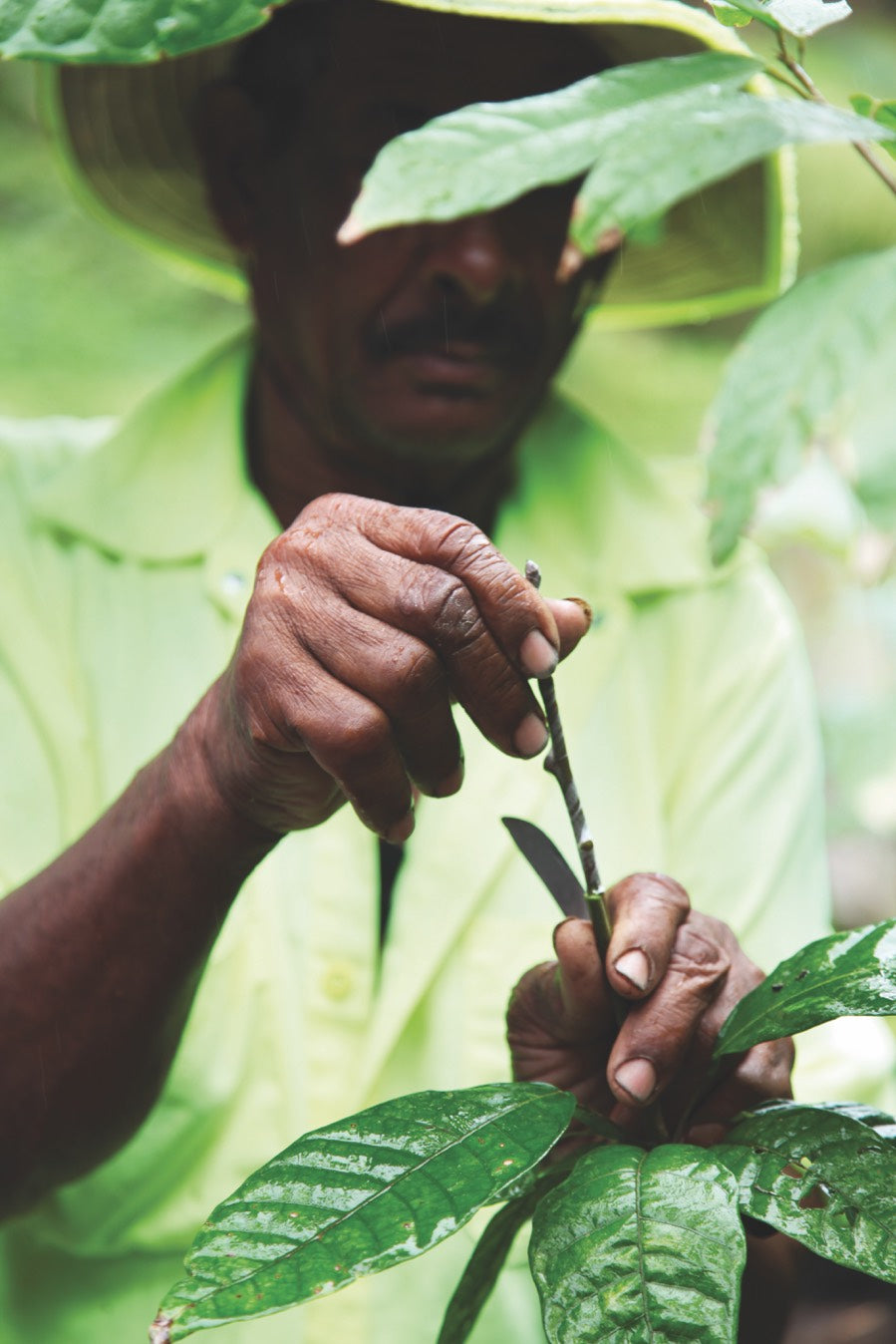 Today, I sell 10 times more cacao than I sold before
Hotel Chocolat's subsidised cacao plants helped me replace all our old trees that had died. I bought them by the hundreds. We planted ten acres, with banana and coconut trees in between for shade. We hired two workers to help us maintain them. Now, we're harvesting so much! 
Scaling our impact with gentle farming
Our production in Saint Lucia forms only a small part of our total cacao use, so it was essential to us to take our learnings and apply them elsewhere.
In 2021, we set up our Gentle Farming office in Nkawkaw, Eastern Ghana to support cocoa growers in the same way we have done in Saint Lucia and to encourage more sustainable growing practices. In exchange for above market rates for their cacao, we work with growers to reduce the environmental impact of their farming without reducing their yields.
The Gentle Farming Charter
Hotel Chocolat pay a rate for cacao that enables a typical Ghanaian farmer to earn a fair living income (roughly 20% above the market rate) and provide resources & investment to increase sustainable production of cacao.
In exchange for this commitment, smallholders pledge to:
Increase pre-harvest labour to sustainably improve crop health.
Ensure every child can participate fully in education, with no illegal child labour or modern slavery.
Prevent deforestation and replant shade trees to improve climate resilience.
This programme is available to the approximately 2,500 farmers in eastern Ghana with whom we have a long term partnership.
Visit our Saint Lucia Farm
Our Saint Lucia farm - which is in a UNESCO world heritage site - is home to our luxury eco-hotel and visitor experience. Join us for the ultimate chocolate immersion to learn more about cacao and even turn it into chocolate yourself!